Lila's Bali Diary Part 10
Yes, so Mola Mola really does exist!
My internship at OK Divers was slowly coming towards the end and just a thought of me returning back home made me feel anxious. Honestly, after a year in Bali, I could not imagine what am I going to do in Slovakia. I knew exactly what I won't be able to do there – it won't be possible for me to dive in the ocean with a water temperature around 27°C. As Mola Mola Season was slowly coming to an end as well and I have not had much of an opportunity to get to the places where divers can spot this weird fish, my anxiety has grown even more. We were super busy at OK Divers during the main tourist season and when I was off, trips to Nusa Penida, Gili Mimpang or Gili Tepekong, were already booked out.
Meeting Sun Fish while diving in Bali
Mola Mola or Ocean Sunfish is a strange fish which can grow to more than 3 meters, it's quite rare and divers can spot it on Bali dive sites in the period starting from August until the end of October in shallower waters- in depth about 20-30m.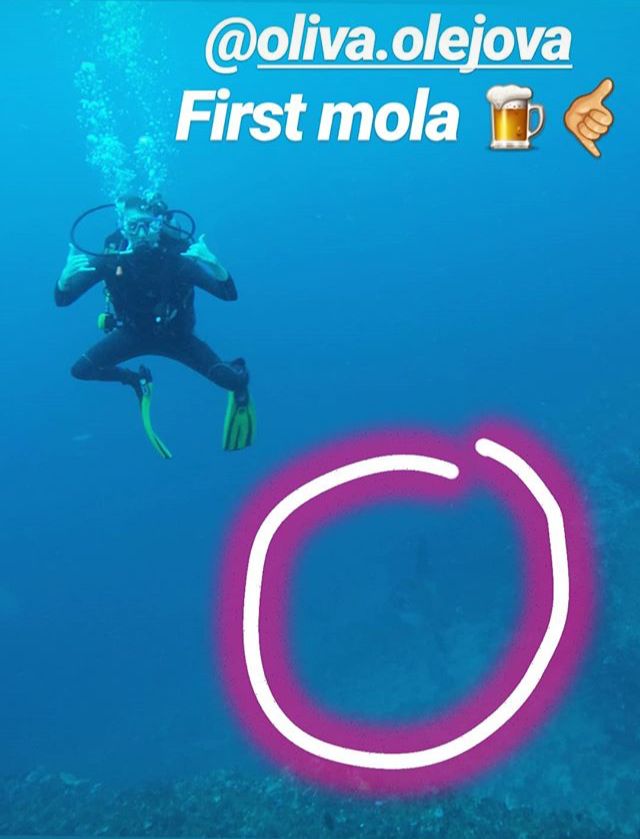 In September, a good friend of mine, Roman, came to visit me for some diving in Bali. We were planning a "Mola Mola hunt" one month ahead, so I signed us up for a Manta point/Crystal bay trip two weeks in advance, just to make sure that we will get there.  I also requested a day off that day. As a bonus, our Czech guide Vitek was supposed to dive with us and I knew he was also "hunting" for Mola Mola, because he haven´t had a luck to spot one this year yet.
The conditions for "Mola Mola Hunt" were perfect that day (nice weather, calm sea and water cold as ice). Vitek explained to us that since we are bit more experienced divers (yes, he included me in this category as well, so the "Diving Disaster" episode of my life is obviously definitely over), he will take us to a place at Crystal bay where you need more experience, because of its tricky sea conditions. He told us that the water temperature here could be below 20°C, and that is highly possible there'll be a stronger current, so we were trying our best to prepare for it. Even at the beginning of the dive the water was ice-cold, but we swam into the deep leaving all the other divers waiting for Mola in the shallower (and warmer) water…and suddenly it came…it's not possible to prepare yourself for 18°C water, trust me!
I was trying to relax and to think that little winterisation has never killed nobody, but I was worried that my brain is going to freeze. However, we were still descending, so I tried to fight myself. After a couple of (endlessly long) minutes Vitek stopped and showed us that we're at the place…but that bitch was not there! We were waiting in 18°C for about 3 minutes, after that Vitek showed us to follow him into the shallower waters. We have seen a bunch of nice coral fish by the end of the dive, but otherwise – NOTHING. I have to admit that I was bit disappointed, because it was the only possibility to see Mola Mola together with Roman, but yeah, we are not diving in an aquarium.
Back on the surface, we met Vitek's colleague Arya and he asked if we saw Mola. When we shook our heads NO, he told us he saw one…my head wasn't able to accept this information at first…Arya was diving with DSDs (non-certified divers, usually people diving for the first time) that day, so I thought he was just making fun of us. With his guests he was only able to go to the depth of max 12 meters and the chance of seeing Mola Mola at 12 meters is about the same as to see myself in a gym (very small). However, Arya looked really happy, so I realised, that it must be true.
Suddenly I felt like I'm back in 25 metres with 18°C and I froze immediately, because I realized what could happen if Arya took his DSDs deeper than was allowed. ,,Vitek, what if Arya took these DSDs deeper than 12 meters?" Vitek managed to answer "Well, let's hope that he didn't," but we went back to the boat little bit worried. Arya showed us the proof that he was telling the truth-video from his GoPro camera- right away. Yeah, he saw Mola…with DSDs…in 12 meters…and his diving computer showed the max depth of 11.5 meters. I couldn't believe my own eyes and if I wasn't too busy while trying to warm up my body as fast as possible, I would probably be little bit angry. The two Czech DSDs were so excited about their experience, that it was hardly possible not to celebrate with them.
After this experience, I told myself that I have to plan some dives with Arya, because that guy is incredibly lucky.
This theory was proven again in few days. I was sitting in the office, replying to some messages from the guests on Facebook (yes, you can book our services through Facebook as well) and I suddenly saw Arya sharing new post about seeing Mola Mola again…not just one, but four!!! In Mimpang. I started thinking about my breakfast-scrambled eggs with mushrooms – what if that mushrooms weren't all right and I'm having some hallucinations now?
On the next day, I was supposed to have my day off and we had Mimpang/Tepekong scheduled. With Arya, as a bonus. So I hurried to find our dive center manager, Jerome, and begged him to sign me up. He agreed, so I found Arya and asked him to do his magic next day.
I was quite nervous in the morning, tho. I had never been diving in Gili Mimpang before and I heard that currents there might be quite strong. I told myself that if there's any chance to see four Molas, I have to push and kick as much as possible.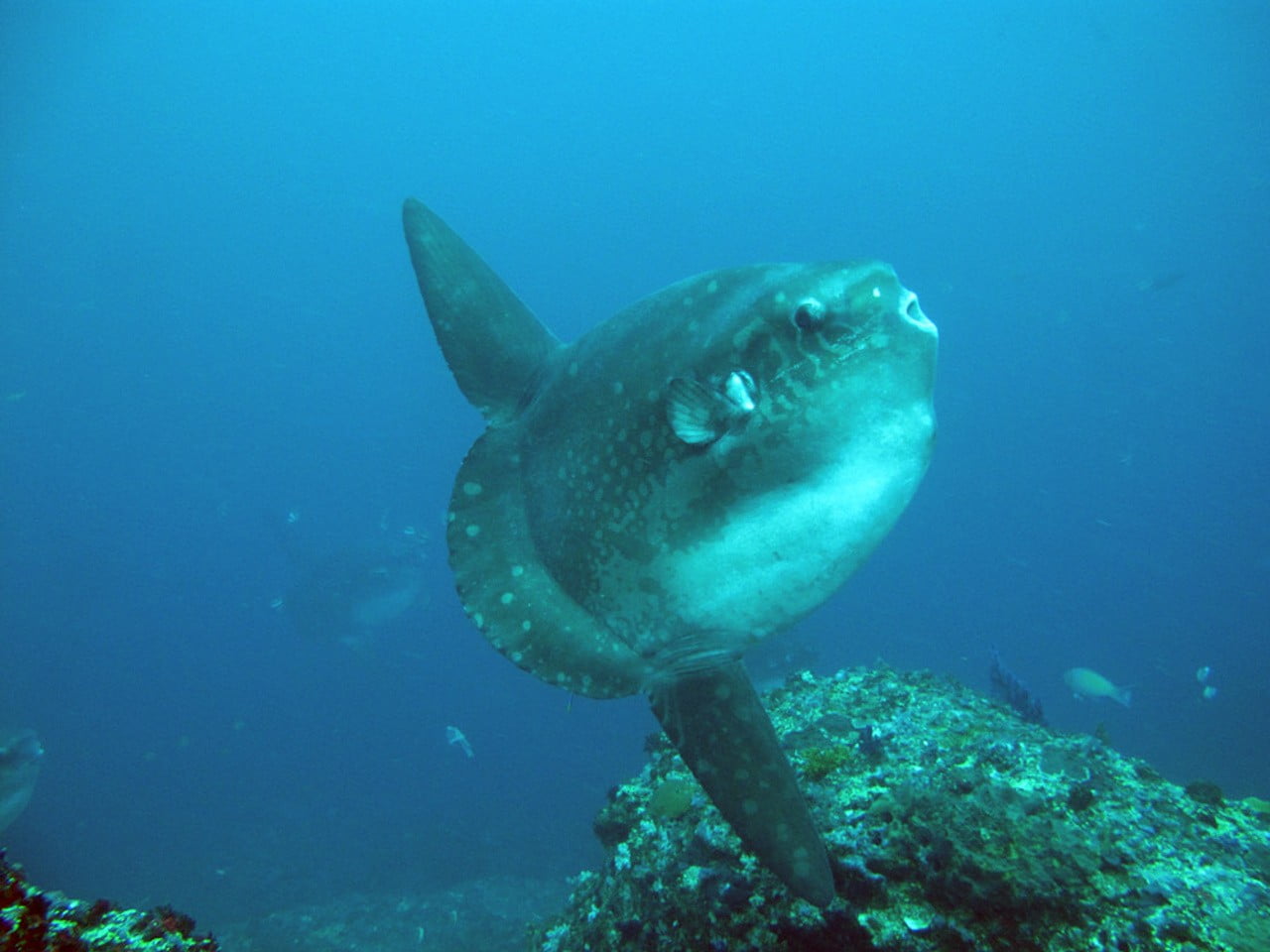 The other divers signed for the Mimpang/Tepekong trip seemed nice – Miriam from Slovakia, German guy Hans, Arya and Jerome, so I tried to relax. On the way to Mimpang, my dive buddy Hans told me, that he saw Mola Mola at Crystal Bay two days ago and that he managed to make a 3-minutes video from this meeting, so he wouldn't mind if he won't see any Molas on this trip. I explained that this was probably my last chance to see Mola before my return to Slovakia. I also asked him to think positive, as the universe can make our wishes come true. Hans promised me to do his best (I think, he was probably little bit scared of me).
But the Universe didn't give a shit about mine or Hans' wishes. We dived Mimpang the same way as Arya did the day before, and even we had a nice dive (Mimpang's topography is beautiful, current was not too strong and the water temperature was around 24°C), we saw no Molas at all (I was wondering if Arya's skills at Adobe Photoshop could be so good that the video with four Molas is fake). I have already reconciled with the fact, that I won't see any Mola that day, during the mandatory break. I was just hoping to have a chance to get to Bali again in the future.
Next dive in Gili Tepekong was even more pleasant – the water was warmer, almost no current and we met lot of schooling fish. I told to myself that even we were not lucky enough to see Mola, these were nice dives and at least I had an opportunity to visit new dive sites. But at the end of the dive, when Jerome and Miriam joined our group, Jerome showed us to swim swiftly on the opposite side to find Mola there. My first thought was that even if there was any Mola, it probably swam away already. However, I switched on my turbo boost and kicked as fast as possible, just to get to the spot Jerome was pointing to. As we were getting closer, the water temperature dropped to minus 1000°C, so I thought "Is this really going to happen?"…and yes, a moment later when I saw Arya's expression I knew there was Mola Mola somewhere, but I still couldn't see it…I swam closer to Arya and he pointed to a place below us…and yes, a few meters away from us there's a big, weird looking fish with odd fins surrounded by small fish.
Arya gave me a signal to get closer to Mola and he waited to take picture of me. So I swam closer, even I still couldn't believe, this is happening. We spent about two minutes watching this unusual beauty, then Arya asked us to slowly go up.  I didn't want to leave this Mola, but unfortunately we met her (him) at the end of our dive.
After Arya showed me the pictures during our safety stop, I started to believe that it wasn't just a nitrogen narcosis, but this really happened. Finally, I've met Mola Mola.
Shortly after this, Arya nearly gave me a heart attack underwater, when he showed me that he accidentally erased all the pictures from his GoPro. Once we were back on boat, he admitted that it was a joke and he still has all the videos and pics (that was a good one Arya, really). So in addition to this wonderful experience and memory, I also have a funny video and some pictures of me and Mola (it's not important that Mola is barely visible).
I think I could not finish my internship in a better way, and I would like to thank OK Divers for their patience, support and all the unforgettable moments I will remember for the rest of my life.
What's your reaction?
0
Cool
0
Bad
0
Lol
0
Sad