Why to dive in Bali (especially in Padangbai)?
You may remember how difficult it was for me to learn how to dive (if not, you can read more about my Open Water Diver course in 2nd, 3rd and 4th part of my blog from Bali – trust me, after reading this your self-confidence grow much bigger/it's a light reading for an instant ego boost. I was hopeless (my nick name was DD as Diving Disaster). I thought that scuba diving in Bali is not for me, because my hobby to panic might be stronger than my urge to see that amazing underwater world.
Reasons for Diving in Bali
I visited Bratislava (my home town) for 2 weeks in February. During my short stay in Slovakia my family, friends, neighbors and also a security guy at my former work were asking me a lot of questions about scuba diving. All of them wanted to know how come that after all that torture I experienced during my PADI Open Water Diver Course, I still didn't give up on scuba diving.
The truth is that it's not that easy to give up on diving when you have an internship at OK Divers. Every single day you're in touch with divers talking about amazing underwater experiences and showing you beautiful pictures and videos of sea creatures (while you didn't even have idea something like that exist). I was therefore willing to try everything (both possible and impossible) just to see that incredible Bali dive sites with my own eyes (yes, I also tried snorkeling in the kitchen sink to practice how to block my nose underwater and to learn how to breath only through my mouth. If you are asking why kitchen sink, the answer is simple – my giant head didn't fit to a wash basin in my bathroom).
Many friends were asking if is diving in Bali really like it seems on those (I quote one of my friends Matthew) "annoyingy beautiful pictures" that I often share on social networks. To be honest, those nice pics are nothing compared to reality. I saw unreal things underwater during those few months that I've spent in Bali. It's true, Bali belongs to the most beautiful and popular dive sites in the world.
Padangbai is a small port town, but for divers and snorkelers, it can offer quite lot.  Each site here is different, Jepun, for example, offers rich underwater life (turtles, stingrays, moray eels but also perfect conditions for macro-photographers – you can for example see seahorses and nudibranches here), small ship wreck full of fish and you can take pictures with Buddha statues. You can also meet a submarine (yes, real submarine) full of tourists here and enjoy your 5 minutes of fame because all these tourists will start waving at you like crazy and taking a million pictures of you.
Jepun is perfect for night dives as well. If you have never tried a night dive before, I certainly recommend you try at least one in Padangbai. You will be able to see many sea creatures which were hidden during the day (crabs -also porcelain crab, shrimps, lobsters, octopus or jellyfish flashing different colors…). The view of the dormant unmoving schools of fish floating in the space totally fascinates me – I always feel like I'm in a sci-fi movie wandering through the universe. One of the most beautiful moments I've experienced during night dive was when we turned off our torches, found ourselves in full darkness waving arms and legs around and thanks to the bioluminescent plankton, the surrounding area was lit by small flickers of light (it's like using Lumos spell underwater).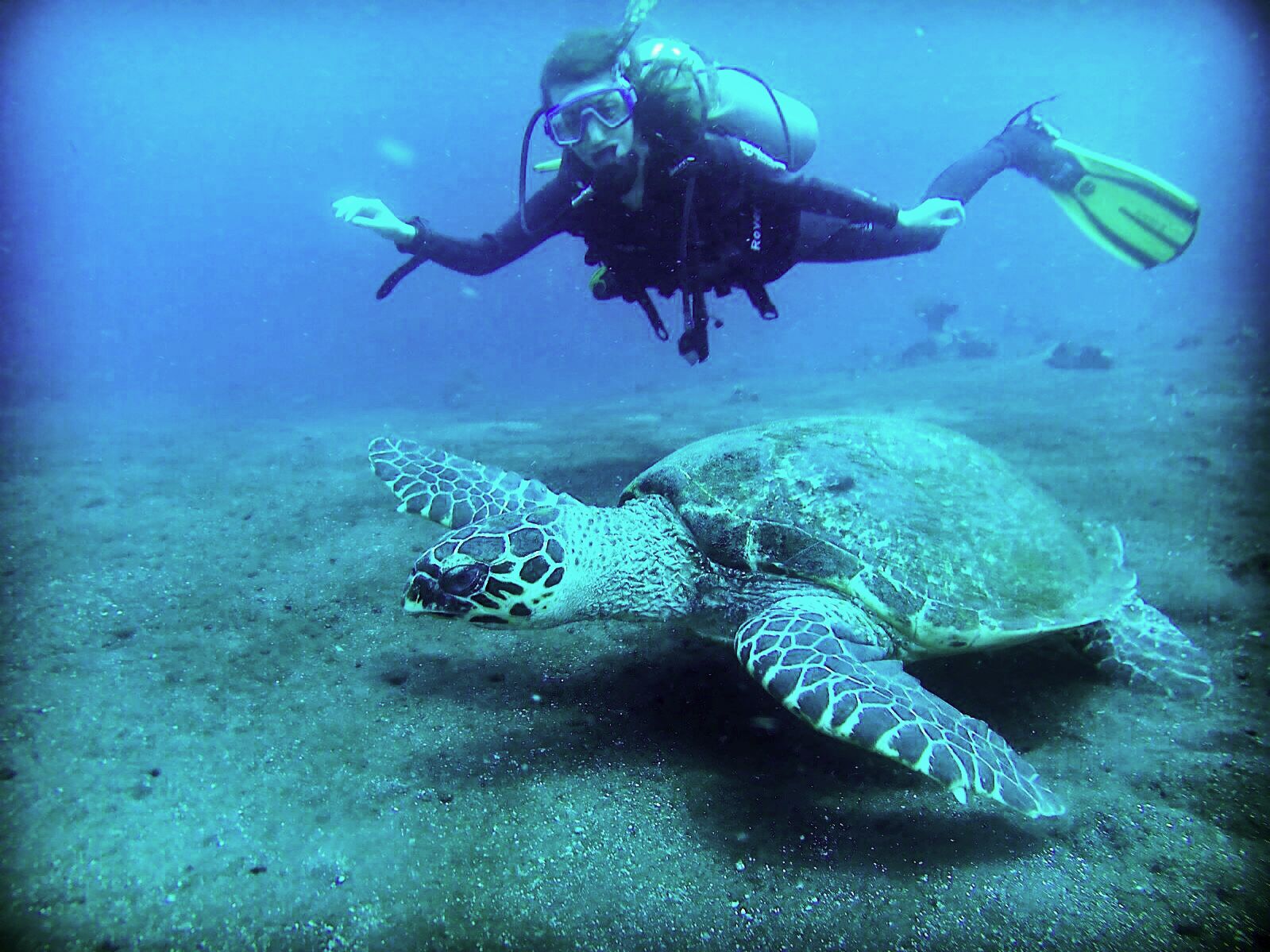 If you would like to see some nice corals, schools of little/bigger colored fish (Nemo, Marvin and Dory included), cuttlefish, octopus (and many more), I recommend Blue Lagoon. To meet turtles, I would suggest try diving at White Sand Beach. I spotted at least one turtle every time I've dived there. I've also met my first shark while diving at this site. If you have imagined a scene from Jaws movie or another cinematographic masterpiece, I would like to assure you that it was (at least for me) a nice and peaceful, although short meeting – I was very excited, but that white tip reef shark obviously felt different way and after a minute swam far away.
If you are lucky enough (I'm serious), you can spot sharks also at Shark point, a wonderful dive site, full of beautiful colorful corals. I saw four quite friendly reef sharks last time I dived here. Drop off is a long coral wall, where you can find many sea creatures hiding (sea snails of all colors and shapes, smaller/bigger fish, frogfish, leaf scorpion fish, moray eels with heads larger than mine…). There's also a sign pointing to every direction/different places in the world (Mexico, Cape Town, Singapore, South Pole…). The sign is in the depth of 6 meters, so even beginners are able to reach it.
There are Bali dive sites I plan to visit in the future, for example the Channel (you dive in the main channel for ships and ferries), where you can see MEGA (Ninja) turtles or the Secret patch (a sandy area located near Jepun, which is not easy to find) and it's also a popular choice for macro-photography lovers.
To make your decision even more difficult, there are few other popular dive sites around Padangbai, such as:
Gili Mimpang and Gili Tepekong (15 minutes by small boat from Padangbai), beautiful locations with stronger currents or Gili Biaha (20 minutes by small boat from Padangbai), a cave which is a home of one shark family (yes, I have to admit that since my snorkeling sessions in the kitchen sink, my diving skills have improved a little and I'm able to dive in shark caves now, but please don't mention this in front of my mom, thanks).
Bali dive sites around the island of Nusa Penida (30-40 minutes from Padangbai by boat) are popular for drift dives along a coral reef which is several kilometers long with lots of marine life (chance to see an eagle ray, turtles or tuna…). It's not a surprise that as the laziest person in whole universe (which despise any physical activity), I just fell in love with drift diving. You simply keep drifting with the current (almost none physical activity is needed) and you can entertain yourself, for example, by counting the turtles (once we counted 9 during a single dive).
Manta point/Crystal Bay sites are probably the biggest attraction for many divers and snorkelers visiting Bali. It takes approximately 40-50 minutes to get to these sites from Padangbai and this journey along Nusa Penida island is magnificent. Manta Point Nusa Penida is a relatively shallow dive site where you can find manta rays dancing around a large rock in 8-13 meters depth. I don't want to be pathetic, but I consider moments spent at Manta Point as one of the most beautiful in my life. I have not yet met a person who didn't enjoy watching a manta dance.
Crystal Bay Nusa Panida is one of the dive sites where you have a chance to spot Ocean Sunfish aka Mola Mola, which is (in my opinion), one of the strangest fish on this planet. In case you want to be sure that something as weird as this fish really exists, plan your holiday in Bali during August- October, because there is a higher chance to spot this fish in shallower waters (shallower means 25-30m, because this fish usually lives in the depth of more than 40m) during this time of year.
OK Divers took me to Amed Bali  village as well (40 minutes by minibus from Padangbai), which I renamed to "The Kingdom of Stingrays"- during my first dive here I counted 21 of them (they were everywhere), so if you like stingrays, you need to visit this place. Tulamben Bali (1.5 hours minibus from Padangbai), is one of the most recommended dive sites in the world and I understand why- both beginners and experienced divers can enjoy scuba diving near (in) the wreck of USS Liberty, which is beautifully covered with corals.
Bali, however, offers many different dive sites and I just can't wait to explore them all. Yes, I'm a scuba addict and if you have the same "problem", contact OK Divers.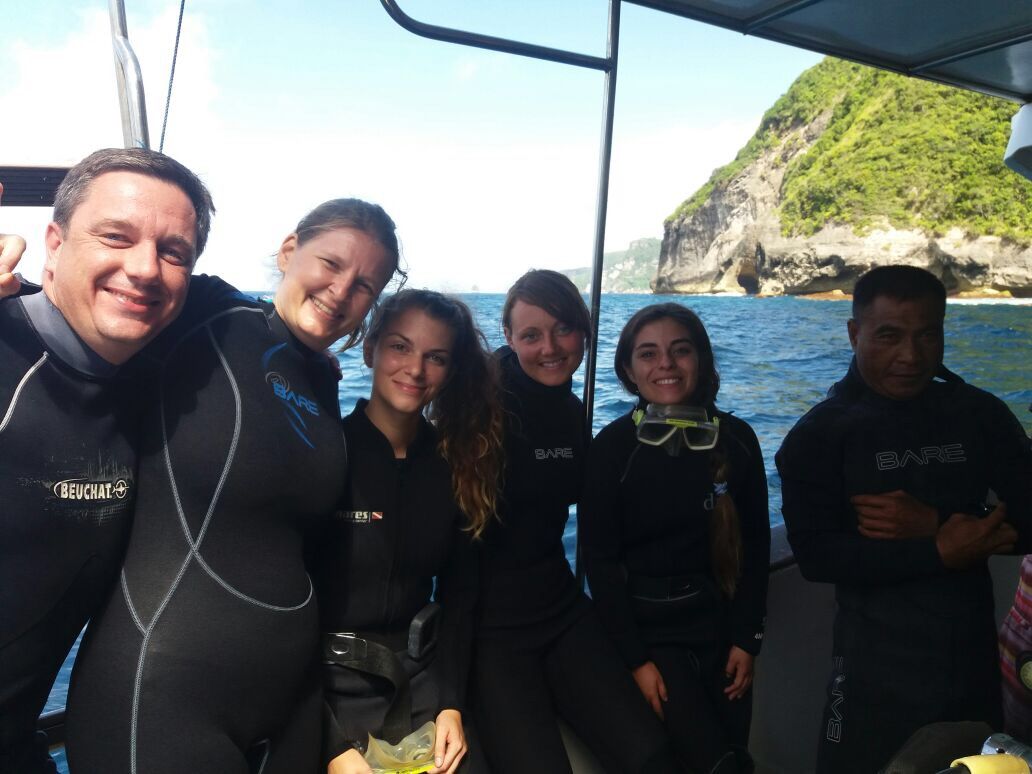 What's your reaction?
0
Cool
0
Bad
0
Lol
0
Sad